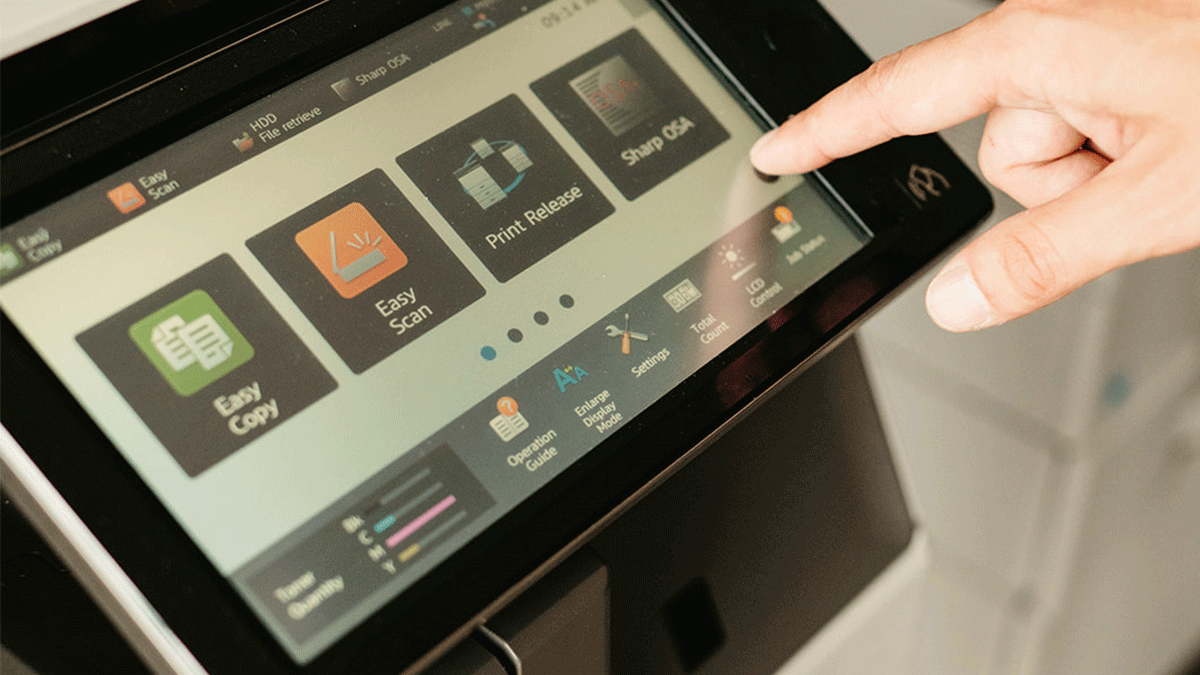 Sharp
Professional Displays
At MOS Office Systems, we offer a wide range of professional displays to elevate your visual communication and enhance collaboration in the workplace. Our selection includes high-quality displays from top brands like Sharp, ensuring exceptional image quality and advanced features.
MOS Office Systems
Why Choose Our Professional Displays?
Stunning Visuals: Our professional displays deliver stunning visuals with high-definition resolution, vibrant colors, and superior image clarity. Whether you need displays for presentations, digital signage, or interactive touchscreens, we have the right solution to make an impact.
Versatility and Functionality: Our professional displays are designed to meet diverse business needs. From large format displays for conference rooms to video walls for engaging visual experiences, our displays offer versatility and advanced functionalities to suit your requirements.
Enhanced Collaboration: Foster effective collaboration with interactive displays that support touch and stylus input. These displays enable seamless interaction, annotation, and content sharing, making meetings and presentations more engaging and productive.
Reliable Performance: Our professional displays undergo rigorous testing to ensure reliability and durability. With features like anti-glare screens and robust construction, our displays are built to withstand the demands of continuous operation in various environments.
Expert Support: MOS Office Systems provides comprehensive support for all our professional displays. Our team is available to assist you with installation, configuration, and ongoing maintenance, ensuring optimal performance and maximizing the lifespan of your displays.
Schedule Demo
See Our Professional Displays in Action
Experience the power and versatility of our professional displays by scheduling a personalized demo. Our knowledgeable team will guide you through the features and functionalities of our displays, helping you find the perfect solution to transform your visual communication and collaboration efforts.
Invest in professional displays that make an impact. Contact MOS Office Systems today and discover the perfect display solution for your business needs.
Additional MOS Products
Transform Your Office with Cutting-Edge Solutions
MOS Office Systems offers a comprehensive range of innovative office products, including printers, copiers, MFPs, and supplies, designed to streamline workflows, boost productivity, and enhance efficiency in any workplace.
FAQ
Empowering Businesses with Quality Office System Solutions
Have questions about our printers, MFPs, or services? Check out our FAQ section for answers to some of our most commonly asked questions.
Yes, we offer leasing options for our printers and MFPs to help make them more affordable for small businesses.
We offer a range of repair services, including fixing paper jams, replacing toner and ink cartridges, repairing print heads, and troubleshooting connectivity issues.
We prioritize service calls and aim to respond as quickly as possible. We operate within a 40 mile radius of our home office in Bellaire, Ohio so that we can have someone on site within 4 hours to get you up and running again.
Our Process
Sales & Service
At MOS Office Systems, we make the printer sale and service process simple and hassle-free. Our experienced team will work with you to understand your specific needs, and we'll provide expert guidance to help you choose the best printers or MFPs for your business.
Consultation
We will discuss your printing needs and recommend the best printer or MFP for your business.
Purchase/Lease
We will help you select and purchase the chosen printer or MFP that fits your needs.
Installation
Our team will install and set up the printer or MFP at your business location to ensure it is ready to use.
Maintenance
We provide regular maintenance and repair services to keep your printer or MFP in top condition.
40-and-4 Rule.
MOS Will Be There When You Need Us
We operate within a 40 mile radius of our home office in Bellaire, Ohio so that we can have someone on site within 4 hours to get you up and running again.
Service and Repair
We take customer care seriously, and that's why we guarantee someone onsite within 4 hours.
Sales & Leasing
We have equipment solutions for every offices, even the ones that are only in our area for a month or two.