Printer, Copier, & MFP Leasing
Flexible Solutions for Your Business
At MOS Office Systems, we understand that businesses have diverse needs and varying financial situations. That's why we offer flexible rental and leasing options for office equipment to accommodate your specific requirements. Whether you need printers, copiers, MFPs, or other office devices, our rental and leasing programs provide you with the freedom to access the latest technology without the upfront investment.
With our reliable support and maintenance services, you can focus on your core operations while we handle the equipment upkeep. Experience the convenience and affordability of renting and leasing office equipment with MOS Office Systems.
Renting & Leasing Equipment
Why Lease Your Office Equipment
Leasing a printer or copier can be a strategic choice for businesses for several reasons.
Leasing allows businesses to conserve their capital and allocate it to other essential areas of their operations. Rather than making a significant upfront investment to purchase equipment, leasing allows for predictable monthly payments, making it easier to budget and manage cash flow.
Leasing also provides businesses with access to the latest technology without the need for frequent upgrades or replacements. Technology advances quickly, and leasing ensures that you can stay up to date with the latest features, functionalities, and security measures. This can be especially beneficial for businesses that rely heavily on printing and copying for their day-to-day operations.
Leasing offers flexibility. Lease terms can be customized to align with your specific needs, whether it's a short-term or long-term arrangement. This flexibility allows you to scale your equipment up or down as your business evolves, accommodating changes in volume or requirements. Additionally, leasing often includes maintenance and support services, ensuring that your leased equipment remains in optimal condition and minimizing downtime.
Leasing a printer or copier provides financial flexibility, access to the latest technology, and the ability to tailor equipment solutions to your business needs. It can be a cost-effective and convenient option for businesses looking to streamline their printing and copying operations while maintaining their budgetary and operational flexibility.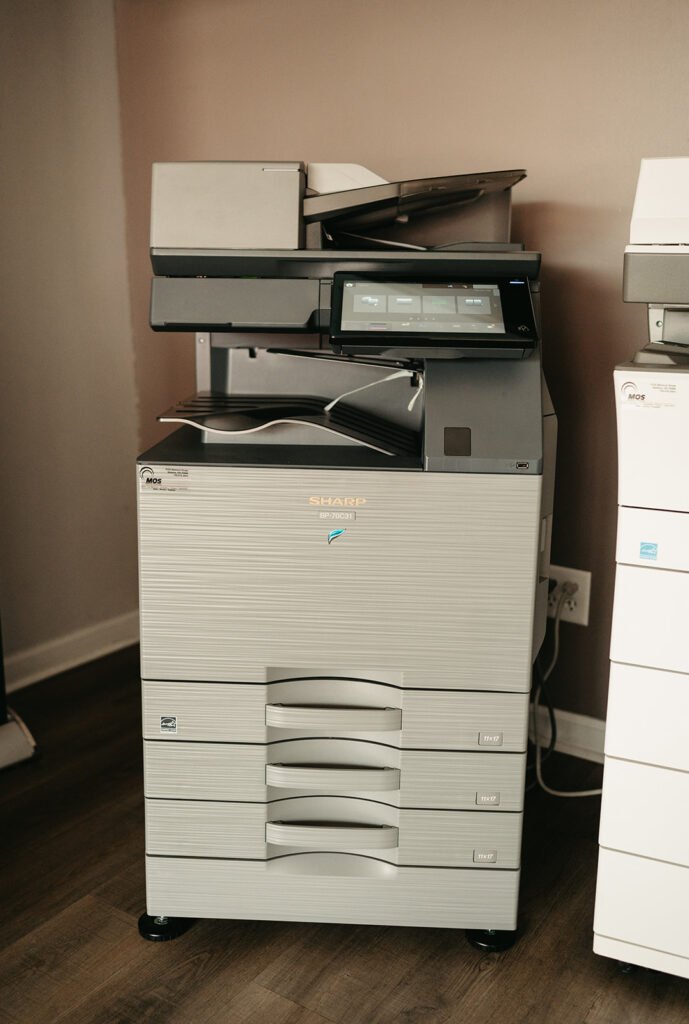 Printer, Copier, & MFP Leasing
How Does Leasing Work?
Leasing a printer/copier with MOS Office Systems is a flexible and hassle-free process. We assess your specific needs, help you select the right equipment, and then handle the delivery and installation. Throughout the lease term, you make fixed monthly payments while benefiting from included maintenance and support services. At the end of the lease, you have multiple options, including equipment return, lease renewal, or equipment purchase.
Leasing offers businesses the opportunity to access the latest technology without large upfront costs. With predictable monthly payments and comprehensive support, you can efficiently manage your printing and copying needs while preserving capital for other areas of your business. Experience the convenience and flexibility of leasing with MOS Office Systems today.
Our Process
Sales & Service
At MOS Office Systems, we make the printer sale and service process simple and hassle-free. Our experienced team will work with you to understand your specific needs, and we'll provide expert guidance to help you choose the best printers or MFPs for your business.
Consultation
We will discuss your printing needs and recommend the best printer or MFP for your business.
Purchase/Lease
We will help you select and purchase the chosen printer or MFP that fits your needs.
Installation
Our team will install and set up the printer or MFP at your business location to ensure it is ready to use.
Maintenance
We provide regular maintenance and repair services to keep your printer or MFP in top condition.
40-and-4 Rule.
MOS Will Be There When You Need Us
We operate within a 40 mile radius of our home office in Bellaire, Ohio so that we can have someone on site within 4 hours to get you up and running again.
Service and Repair
We take customer care seriously, and that's why we guarantee someone onsite within 4 hours.
Sales & Leasing
We have equipment solutions for every offices, even the ones that are only in our area for a month or two.
Client Feedback
What Our Client's Say
hear directly from our satisfied clients about their experiences with MOS Office Systems. Discover how our innovative solutions, expert support, and commitment to customer satisfaction have made a positive impact on businesses and organizations of all sizes.
Integrity! Barb Godwin and her team will provide the best possible service and solutions! They will work to ensure best practices, timely delivery and quality product. When we have a question, the team quickly finds a solution. Friendly, honest service. I highly recommend using MOS for your coping needs!
Tammy K.
MOS's customer service is prompt and their service is thorough. Whenever we have called with a question or issue, Barb or Travis or another member of the team have responded quickly. I also appreciate that sometimes one of them will be in our area and will stop in, just to say hello and check to see that all is well. Thank you to all of you!
Mary Lou J.
MOS has serviced our machines for 7 years now. Very professional with making sure machines are running correctly and when service is needed they are quick to respond and get the machine back up and running. Always reaching out to make sure we have back up ink cartridges' on hand.
Andrea D.
I am a small business soloprenuer with modest printing needs. Over 10+ years the MOS team has made me feel as important and valued as their largest customer.
Joan F.